Ulepszona wtyczka Woocommerce dla WordPress
Z pomocą wtyczki w ciągu paru minut uruchomisz Przesyłkownie. Jednym kliknięciem wydrukujesz etykiety przewozowe, wyślesz paczkę do Przesyłkowni, wygenerujesz numer śledzenia dla klienta i wyślesz je do niego.
Klient w prosty sposób wyszuka lub wybierze na mapie oddział Przesyłkowni. Również na komórce.
Wtyczka jest przetłumaczona na 7 języków i umożliwia wysyłkę do Polski, Czech, na Słowację i do całej Europy. A jeżeli Przesyłkownia zaoferuje jakąś nowinkę, do paru dni będziesz ją miał u siebie.
Zainstaluj Toret Przesyłkownię i :

zaoszczędź ogrom czasu dzięki automatyzacji


zwiększ konwersję oraz komfort klientów

aktualizuj automatycznie z poziomu administracji

uzyskaj szybkie wsparcie w razie "W"

ciagłe dodawanie nowych funkcji

2400+ instalacji

szybkie wsparcie

55 opinii

gwarancja satysfakcji
Aktualizacja ważna 1 rok
Wydłużenie o następny rok z rabatem 50%
14 dni gwarancji zwrotu pieniędzy
Policz, ile zaoszczędzisz co miesiąc :
Super, zaoszczędzisz co najmniej €
100
na miesiąc.
W jaki sposób to obliczyliśmy? Wiemy, że reczne wprowadzenie danych do Przesyłkowni, przygotowanie do druku oraz wysłanie informacji do klienta trwa średnio 2 minuty.
przepisywanie danych do Przesyłkowni
przygotowanie etykiet do druku
wprowadzanie klientom danych do emaila
błędne adresy, niedostarczenie przesyłek
Toret Przesyłkownia oczami właścicieli sklepów internetowych oraz programistów

Świetna wtyczka ze wsparciem na poziomie, do jakiego jestem przyzwyczajony w toret.cz. Jeżeli pojawi się jakiś problem, rozwiążesz go dzięki natychmiastowemu wsparciu. Dziękuję za prosta oraz funkcjonalną wtyczkę.

Jest to świetna wtyczka. Dziękuję firmie Toret za jej stworzenie. Prawie połowa moich klientów aktualnie korzysta z Przesyłkowni, którą uważają za bardziej rzetelną niż Czeską Pocztę. Nie mam żadnych zastrzeżeń.

Łatwa implementacja i ustawienie wtyczki Przesyłkownia do Woocommerce, regularne aktualizacje i pełne zadowolenie administratorów jak i klientów z efektów jej używania 🙂 polecam
Funkcje, których nigdzie nie znajdziesz
Automatyczne wczytywanie oddziałów
Korzystając z API Przesyłkowni, wtyczka automatycznie pobiera i wyświetla dostępne oddziały Przesyłkowni oraz innych przewoźników z punktami odbioru. Są one następnie wyświetlane klientowi przy kasie, gdzie może wybierać z dostępnych opcji.
Wtyczka obsługuje najnowszy widżet Przesyłkownia v6.
Podwójne wyświetlenie wyboru punktów odbiorczych
W kasie możesz wybrać z podwójnego wyświetlenia okna z wyborem oddziału. Chodzi o okienko pop-up lub widok inline.
W wyborze punktów odbioru znajdziesz wszystkie Z-BOXY, standardowe Z-POINTY oraz ALZABOXY.
Przejrzysta informacja o wybranym oddziale
Punkt odbioru przesyłki zostanie wyświetlone w administracji w zamówieniu, w mailu dotyczącym zamówienia oraz na stronie podziękowań.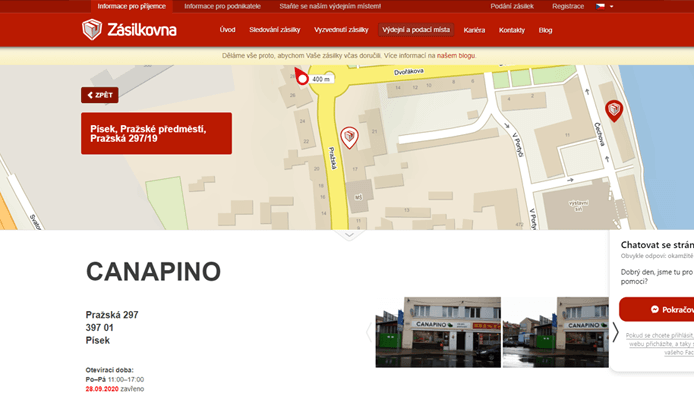 Wysłanie zamówienia do Przesyłkowni za pomocą 1 kliknięcia
Kiedy przesyłka dla Twojego klienta jest przygotowana, za pomocą 1 klikniecia wyślesz ją do Przesyłkowni. Nie musisz jej przepisywać. Zamówienia można wysyłać pojedyńczo lub zbiorczo.
Natychmiastowy numer przesyłki
Po wprowadzeniu zamówienia znajdziesz w liście zamówień w WooCommerce oraz stronie podziękowań link do śledzenia przesyłki. Język strony do śledzenia przesyłki ustawia się automatycznie według przegladarki.
Szybkie generowanie etykiet do druku
W przypadku zamówień wysłanych do Przesyłkowni, etykiety do przesyłki można pobrać bezpośrednio w WooCommerce. Pojedyńczo oraz zbiorczo. Dotyczy to przesyłek do Przesyłkowni jak i również dla reszty dostawców.

Osobiście jestem z wtyczki do implemetacji Przesyłkowni dla Woocommerce bardzo zadowolony. Można ją łatwo ustawić oraz sprawnie działa. Bardzo przydatna jest funkcja, która umożliwia jednym kliknięciem wysłać informacje bezpośrednio do systemu Przesyłkowni, gdzie zostanie wygenerowany numer nadania, etykieta z kodem, zostanie zapisana kwota za pobraniem (jeżeli została w zamówieniu wybrana płatność za pobraniem), która jest zwracana do zamówienia w Woocommerce, co z kolei może być powiązane z indywidualnymi wiadomościami e-mail wysyłanymi do klientów, zwiększając tym samym komfort i podwyższając wiarygodność e-sklepu. Więc nie muszę niczego przepisywać ręcznie. Dziękuję.
Vladimir
Wysyłaj do całej UE
Wtyczka umożliwia wysyłanie zamówienia do Przesyłkowni dla wszystkich krajów Unii Europejskiej. Chodzi o ponad 25 krajów.
Skorzystaj z ponad 60 dostawców
Za pomocą API Przesyłkowni zostaną automatycznie wczytani wszyscy dozwoleni dostawcy – w Czechach oraz za granicą. Aktualnie chodzi o ponad 60 dostępnych dostawców, z którymi Przesyłkownia współpracuje.
Możliwość ustawienia różnych cen dostawy
Dla każdego dostawcy możesz ustawić jednakową cenę za dostawe lub stworzyć własne reguły według wagi zamówienia.
Opcja pobrania z dopłatą
Wtyczka zawiera własną metodę płatności "za pobraniem". Do każdego dostawcy można dodać również dopłatę do pobrania.
Dostawa płatna lub darmowa
U każdego dostawcy ustawisz własny limit, od jakiej kwoty będzie dostępna za darmo.
Maksymalna waga przesyłki
Dla każdego dostawcy jest opcja ustawienia górnej granicy wagi, dla której będą dostępne. Jeżeli waga całkowita przekroczy ten limit, dostawca nie wyświetli się w kasie.
Weryfikacja wieku
Dla pojedynczych produktów WooCommerce istnieje opcja aktywacji usługi "Weryfikacja wieku". Przy odbiorze przesyłki zostanie zweryfikowany wiek klienta.
Wyłączenie przewoźnika
Przy każdym produkcie w WooCommerce możesz dla Przesyłkowni wyłączyć dostawcę, jeśli nie chcesz, żeby był dostępny. Możesz również tę samą funkcję zastosować w przypadku wybranej kategorii produktów.
Śledzenie stanu zamówienia
Wtyczka wyświetla na liście zamówień status przesyłki, w którym aktualnie się znajduje. Potrafi również status zamówienia w WooCommerce dostosować do statusu w Przesyłkowni – np. dostarczone lub zwrócone.

Dla naszych stron internetowych http://www.urbanmaster.cz implementowaliśmy wtyczkę "Przesyłkownia". Po pierwszych doświadczeniach musimy powiedzieć, że z aplikacji jesteśmy bardzo zadowoleni. Podłączenie do Przsyłkowni, automatyczne powiadomienia do Przesyłkowni, import klientów do generowania etykiet, wszystko działa sprawnie. Do tego instalacja oraz używanie wtyczki jest bardzo intuicyjne. Za oferowaną cenę możemy tylko ją polecać.
Jaroslav Fajt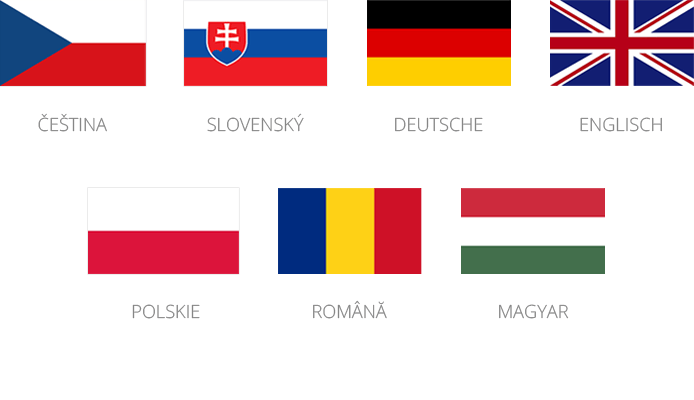 Przetłumaczone na 7 języków
Wtyczka jest przetłumaczona na : czeski, słowacki, węgierski, angielski, polski, niemiecki oraz rumuński. Wystarczy aktywacja i tlumaczenie zostanie ustawione zgodnie z podstawowym językiem WordPress lub językiem użytkownika.
Asystent reklamacji
Integracja wspiera usługę asystenta reklamacji Przesyłkowni, który służy do zapewnienia logistyki reklamowanego towaru oraz ułatwia komunikację między e-sklepem i klientem przy załatwianiu reklamacji. Asystent reklamacji wygeneruje etykietę reklamacyjną, którą można pobrać w zamówieniu i wysłać do klienta.
Wsparcie stref dostawy
Wtyczka Przesyłkownia wspiera strefy dostawy w WooCommerce. Możesz tę metodę łatwo ustawić również dla wybranych krajów.
Regularna aktualizacja
Wtyczkę cały czas ulepszamy i aktualizujemy kompatybilność z WooCommerce. Gwarantujemy kompatybilność z WooCommerce 4.3 oraz wyższą.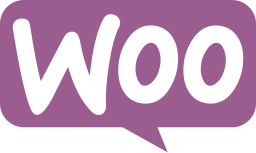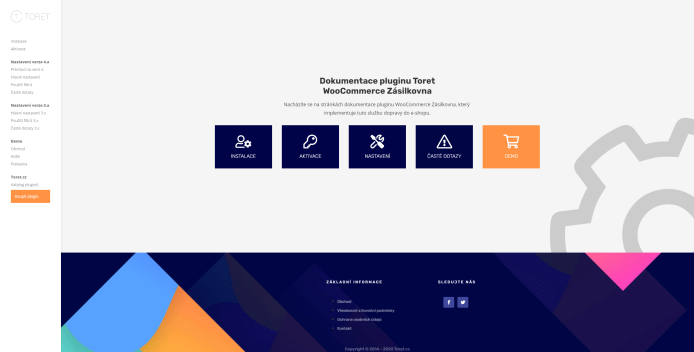 Obszerna dokumentacja
Dla wtyczki została opracowana obszerna dokumentacja. Dzięki niej wtyczkę łatwo ustawisz i szybko zorientujesz się w jej funkcjach.
Today we released the Toret Packeta 5.1 update, which brings the following two major changes to the plugin: Automatically send orders to the Packeta system based on order status changes. Currency conversion
read more
Sign up for our newsletter and receive a 15% discount